By Park Si-soo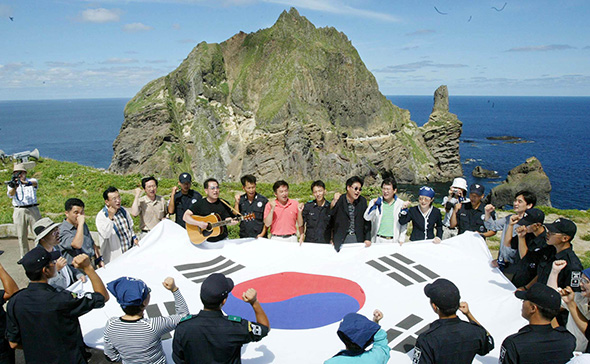 Nearly 1,200 foreigners are "living" on the easternmost Dokdo island, according to data released on Sunday.
The foreigners are among 36,000 "honorary residents" recognized by the Dokdo management office on Ulleung Island, an inhabited island west of Dokdo.
They do not actually live there, but are documented as residents in a promotional campaign for the island.
Since 2010, the office has issued "honorary Dokdo residency" to certificate-seeking visitors regardless of nationality to promote South Korea's sovereignty over Dokdo.
The island sits almost halfway between Korea and Japan. Numerous historic documents back Korea's control, but Japan has claimed sovereignty with feeble evidence, sometimes at the cost of hurting diplomatic ties with Seoul.
U.S. citizens make up most of the honorary foreign Dokdo residents at 390, followed by Chinese (191), South Africans (68), Canadians (61), Vietnamese (46), Britons (45) and Taiwanese (39). Last year, nine Japanese received the certificate, according to the office.
"Nearly 200,000 people visit Dokdo each year, and the number is increasing continually," said a Dokdo management office official. "This reflects people's commitment to defending our sovereignty over Dokdo. We will explore more ways to promote it."
In 2017, 206,111 people visited Dokdo, down 519 from a year earlier. The fall could be blamed on bad weather causing ferry trips to be cancelled during the summer vacation season.
Origin: The Korea Times
http://koreatimes.co.kr/www/news/nation/2018/01/113_242039.html