South Korea on Monday voiced a strong protest over Japan's renewed territorial claims to its easternmost islets of Dokdo and demanded their immediate withdrawal.
"We express our deep regrets over Japan's unjustifiable claims to Dokdo again," the foreign ministry said in a spokesman's commentary.
"The Japanese government should stop its wrong claims with regard to our inherent territory, which it undoubtedly is from a historic and geographical perspective, as well as in the eyes of international law," it added.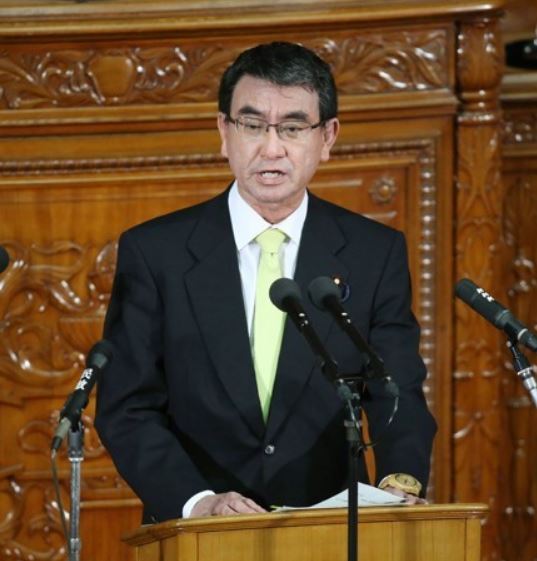 <Japanese Foreign Minister Taro Kono during a parliamentary speech on Jan. 22 (AFP-Yonhap)>
Earlier, Japanese Foreign Minister Taro Kono said in a parliamentary speech that Dokdo, also known as Takeshima in Japan, is part of Japan's territory and that he will make persistent efforts to strengthen the case for Japanese ownership down the road.
Dokdo, a set of rocky islets lying close to the Korean Peninsula in the East Sea, has long been a recurring source of tension between the neighbors. South Korea has kept a small police detachment on Dokdo since the liberation of the Korean Peninsula from Japan in 1945 and has made clear that Tokyo's claims are utterly groundless.
Japan has repeatedly claimed that Dokdo is its own territory, drawing strong condemnation from South Korea. (Yonhap)
Origin: http://www.koreaherald.com/view.php?ud=20180122000923