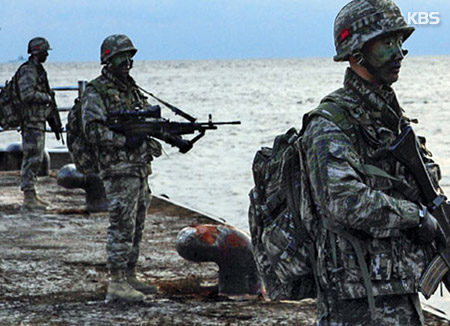 The Marine Corps is known to be planning to establish a Strategic Islands Defense Command and also a military unit on Ulleung Island for the defense of the Dokdo islets.
The Marine Corps announced the plan Thursday during a briefing to parliament during the National Assembly's inspections of government offices.
Under the plan, the existing Northwestern Islands Defense Command will be expanded and transitioned into the Strategic Islands Defense Command. The Marine Corps says the plan aims to better prepare against the increasing military strengths of neighboring China and Japan.
The Strategic Islands Defense Command and the Ulleung Island unit are aiming to be established sometime between 2018 and 2020.
The Marine Corps also seeks to form an aviation unit in 2021 and include the procurement of helicopters in its mid-term plan.
Origin: http://world.kbs.co.kr/english/news/news_Po_detail.htm?No=130966&id=Po