Just two days ahead of the opening ceremony for the Winter Olympics, the "PyeongChang Dessert," also called "a dish of hope," became the center of attention online Wednesday.
The dessert is to be served at the Olympic opening ceremony reception dinner for South Korean President Moon Jae-in and his counterparts from across the world.
The light blue dessert takes on the shape of the Korean Peninsula, with the Demilitarized Zone partially covered by white chocolate drizzled on top. It is reportedly meant to illustrate South Korea's wish for peace on the peninsula and future unification with the North.
Online commenters described it as "witty" and a "brilliant idea." However, others also described the item as "distasteful in appearance due to its blue color." Some commenters even criticized the inclusion of Jeju and Ulleungdo, but not Dokdo Island.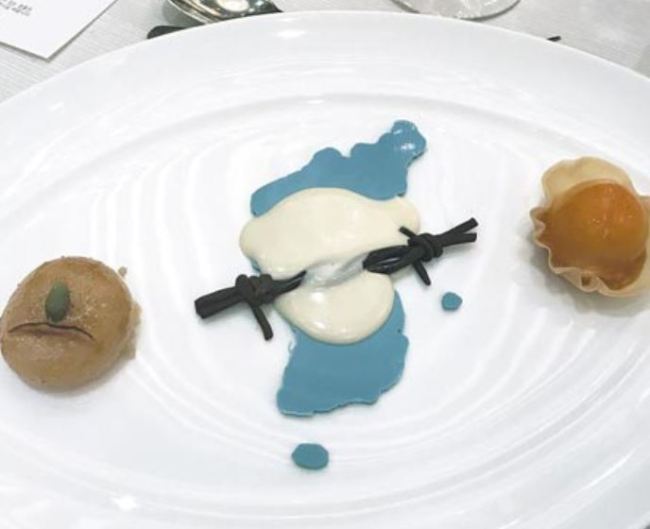 Origin: Twitter
The decision to exclude the rocky islets off the eastern coast of Korea comes after the International Olympic Committee's recommendation not to politicize the international sporting event.
Apart from the dessert, President Moon and accompanying VIPs will reportedly get to pick from two different courses.
The "Celebratory" course will consist of Korean buckwheat pancakes, smoked rainbow trout and Gangneung's famous salt water tofu. The "Unified" course will include a potato dish, Korean beef steak, a vegetable rice dish and a side of asparagus.
The Olympics will kick off Friday.
Origin: http://www.koreaherald.com/view.php?ud=20180207000847