Presidential spokesman Lee Dong-kwan said May 19 that President Lee Myung-bak has directed Korea's foreign minister to "strongly demand a correction of Japan's policy, if the reports that Japan has decided to describe Dokdo as Japanese territory in Japanese middle school textbooks is confirmed."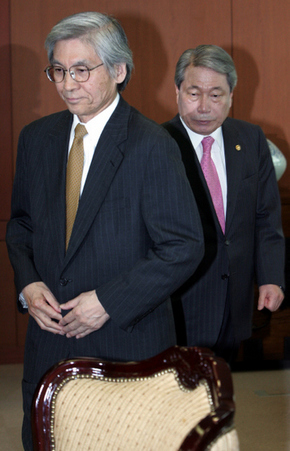 Yoo Myung-hwan, South Korea's foreign minister, right, summoned Toshinori Shigeie, the Japanese ambassador to South Korea, left, to give him a warning about Japan's renewed signs on the Dokdo islets at the South Korean Foreign Ministry on May 19.
When Lee met with Japanese Prime Minister Yasuo Fukuda in Tokyo last month, the two leaders agreed to promote "future-oriented cooperation." Discord is expected between the two countries, however, if the Japanese government pushes to outline claims on Dokdo in school textbooks.
Earlier in the day, foreign minister Yoo Myung-hwan summoned the Japanese ambassador to Korea, Toshinori Shigeie, to convey Seoul's warning and regret about the move. At an afternoon press conference, Yoo said he told Shigeie that if news reports about the Japanese government's decision were true, "It would be an undue attempt to harm Korea's long-held territorial rights to Dokdo and would go against our efforts to move forward to the future."
"I emphasized that Japan should correct this immediately," he said.
A foreign ministry spokesperson said the Japanese ambassador responded by saying that, contrary to press reports, the Japanese have made no such decision.
Chief Cabinet Secretary and Japanese government spokesman Nobutaka Machimura, responding to questions from reporters also on May 19 and using his government's name for the islets, said, "That Takeshima is Japanese territory is the consistent position of the Japanese government. About this nothing has changed."
Please direct questions or comments to [englishhani@hani.co.kr]
http://english.hani.co.kr [The Hankyoreh] | Original News @ HERE
Date : May. 21. 2008