1) Location
> 89.493km south east from Uleungdo
> 220.354km from the Korean peninsular
> 160km from the Japanese island, Oki
2) Geographical Position
Dokdo is located 89.493 km south-east of Ulleungdo, 267 km away from Pohang, 151 km away from the truce line, and 160 km away from the Japanese island Oki. The latitude of Dokdo is between 13152'07″degrees north and its longitude is between 3714'12″degrees east. The island can be seen from Ulleungdo but not from Oki island in Japan.
The shortest distance to Dokdo is 220.354 kilometers from Jukbyeon, Uljin county of North Gyeongsang province, and Dokdo is in the Far East Korean territory. The address of Dokdo is 1-37 mountains, Dokdo-ri, Uleung-eup, Uleung county, North Gyeongsang province which has been officially reconfirmed since April 7, 2000.
The gross area of Dokdo is about 186,121(Dongdo covers an area of 64,779; Seodo, 95,444.5; attached islands to Dokdo, 15,907.5), and the number of the attached islands are 33. Dokdo is a state demesne and under control of the Department of the Ocean and Fisheries.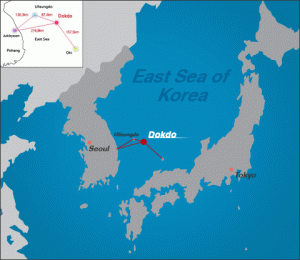 3) Topography
Dokdo is a volcanic island rooted in the sea-bottom 2000 meter's base and established between about 4.6 million years ago and about 2.5 million years ago. Dokdo seems to have been formed about 2 million years before Ulleungdo which was established around 2.5 million years ago.
Dokdo consists of the two rock islands, Dongdo and Seodo, and about 78 attached islands which are almost rocks and reefs. Dongdo has 99.4 meter-high peak where there are two volcanic mouths, while Seodo has 174 meter-high peak of which the shape is like a cone. The shortest distance between Dongdo and Seodo is about 170 meters and the coast is about 5 kilometers. The geological features of Dokdo consist of mostly volcanic rocks and its soil colour is dark brown. Strong sea winds and rugged soil prevent plants from growing on the island. The climate of Dokdo has 1,048mm's annual rainfall and it is similar to that of the continent with 1,400mm's rainfall a year. However, most days of a year in Dokdo are not sunny but cloudy, rainy or snowy. This weather is caused by the effect of the cold and warm current which are crossing each other around the island.
4) Residents
Dokdo consists of about 33 islands; its address is 1-37 mountains, Dokdo-ri, Uleung-eup, Uleung county, North Gyeongsang province.
The first resident in Dokdo is Choi Jong-deok and his address was 67 mountain, Dodong-ri, Uleung-eup, Uleungcounty, North Gyeongsang province. He who was a resident of Ulleungdo went to the island in March, 1965 to catch marine products and started to construct necessary buildings in Dokdo in May,1968. He was registered as a Dokdo resident on October 14, 1981 and he died in Dokdo on September 23, 1987. Afterward, his son-in-law, Jo Jun-gi moved in the same address and lived there until he moved to the address, 63 mountain. He moved out from the island on March 31, 1994. The present residents are the couple GimSeong-do and Gim Sin-yeol who have been living at the address 63 mountain since November 17, 1991. Their main job is fishery.
Mr. Choi Jong-deok, the first resident of Dokdo, entered the island and stayed there to get some marine products. In 1980 when the Japanese government persisted again on having territory rights of Dokdo, he wanted to be the only person to reside in the island to prove Dokdo is Korean territory, and then he changed his resident registration to the address 67 mountain, Dodong of Dokdo. Staying in Dokdo, Mr. Choi developed a way of artificial insemination of abalones, invented a special fishing net, and digged a well called 'mulgol' in the middle area of Seodo. Mr. Jo Jun-gi, the son-in-law of Mr. Choi Jong-deok, was originally a resident of Ulleungdo and inherited the gathering right of marine products from his father-in-law in July, 1986. He has now moved to Donghae, Gangwon province.
Mr. GimSeong-do is the present resident of Dokdo who has moved to the island for fishery since November, 1991.